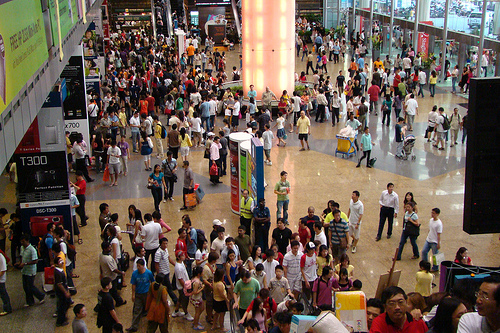 Went down to the PC Show at Suntec yesterday, 12/6/09, for around 20 mins or so. Went together with a bunch of friends with no intention or purpose of purchasing anything at all. We went there, because we were nearby and had nothing else to do at that point of time. From many of my previous experiences of IT Shows and show, crowd was a huge turnoff for me. Yesterday however, wasn't too bad. Crowd was tolerable highly due to the timing we went (1pm afternoon) and the day (Friday, a weekday which also means a working day for adults).
Because we didn't have anything to buy, the fair bored us very quickly. There was nothing new or anything interesting to look at, prices weren't that cheap nor were they even cheap at the first place, and for me every corner and booth I went felt so familiar. This is due to me going to the previous IT Show earlier this year and the products that they were selling were almost exactly the same with that of the PC Show. Prices were almost the same as well.
20 mins or so of walking before we left as the crowd started to become an irritant to us. No point staying there anyways since I didn't have any money to purchasing anything and that my computer is still fantastic up to date.
That is the PC Show for me. Nothing new, nothing exciting. Wasn't hyped up one bit at all.
[image by xcode flickr]