The Acase leather case is one of the types of accessories that iPad owners will be looking out for. Like most cases, it gives additional protection for the device and also beautifies your device depending on the design of the cases. The Acase Leather Case has a simple design and look to it, but it definitely is one of the better few cases that you might want to take a look at.
For those not wanting to read a wall of text, do take a look at the video review. Please give me any comments on it and I must admit that I wasn't too prepared and ready to do video reviews. First timer here, constructive criticisms are highly welcomed. Anyways, first up we shall talk about the outer appearance of the case. The case looks generic, but as generic as it is it is pleasantly looking and definitely adds a touch of professionalism to it. As in it looks as if you're some kind of business man or something. Not too sure about my generalization of such stuff but yeah it does look fine.
It does have a strap at the back that adds additional functionality. And I actually like the touch of colours the strap has. If not in used for its main purpose (explained later), it does make the design of the case a little bit more interesting. It uses a button to close and open the case it does work well. Installation went easy as all it required was the slotting of the iPad into the strap inside, and then using the elastic bands to secure it better. I find it really easy to remove and insert the iPad in and that is definitely a plus if you for some reason like to use it naked at home or something.
The internal of the case looks simplistic as well. Nothing too fanciful here and it does have the same kind of colour scheme and feel to it as the outside. You will immediately notice that there are some grooves or leveled knobs to allow you to make your iPad stand. It is a really good function especially if you are into using your iPad as a digital photo frame at times or simply when you are watching videos while lying on the bed. A nice touch to it, and it works really well as well. Stable when typing, playing games and definitely doesn't fall if there are slight movements on the base it is supported on (e.g the mattress of the bed etc).
The strap behind is also supposedly to be used as a strap-on for your vehicle seat. You simply use the elastic strap to put it round your seat's head or something and there you have your personal in-vehicle entertainment system. I believe that the elastic strap should be tough enough and durable to last long enough and withstand some minor jerks etc. But just a caution to constantly observe for any wear and tear or damages to the strap as you don't want to see your iPad flying as you drive your vehicle.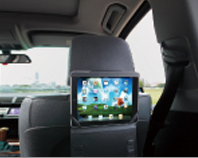 Overall for the price of around $25 USD (roughly $37 SGD), it is a great case. Extremely value for money and if you're looking for a case that helps protect your iPad while still maintain a good appearance, the Acase Leather Case should really be considered.
Visit the AETech Acase for iPad Official Page for more information on purchasing the case or for their other accessories.