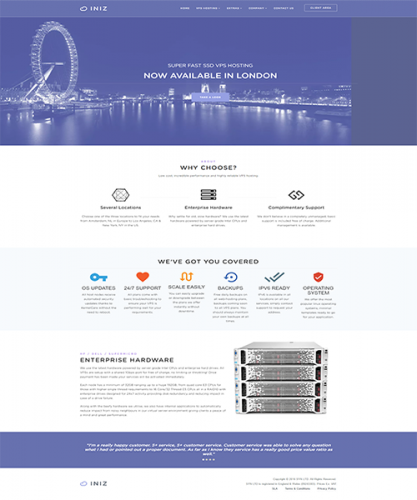 My first foray into VPS hosts started roughly 3 years ago. It had mostly ups and some downs along the way but I am really happy to have been able to find one fantastic company that hosted me for the past 2 years. I have now moved on to another new host and decided to appropriately leave my review of that company that have served me well, Iniz.com.
From the introduction you should expect that this is going to be a positive review. Yes, my overall experience with Iniz has been positive and I am absolutely pleased with the service and product I have been provided with. The plan I had was a special offer given to a particular forum back then and it was great value. I don't believe you can get that exact same plan anymore but they might have some other kind of offers but I am not too sure.
Specifications and Benchmarks
The VPS I had was an OpenVZ container with 2GB of RAM, 100GB HDD, 2TB of bandwidth, 4 vCPU (shared) located in Los Angeles, California. Here is the latest benchmark I did after I migrated over to the new host: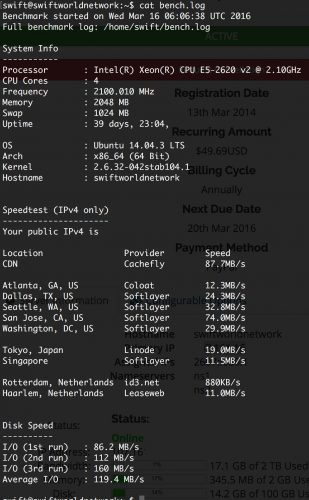 The performance is good, great especially for the price I paid. Everything worked flawlessly with little to no slowdowns (as far as I can tell) albeit I did not have much going on the VPS.
Support
Support response was fast and helpful. I would usually get a reply in minutes (during working hours at their side) and they would settle any of my doubts or queries. I did not face with any major difficulties and hence did not test their "emergency" response or any of that kind of support requests. Overall in the 2 years with them, support was great.
Uptime
Using my uptime monitor, it seems that over the 2 years, I have received roughly 98.2% of uptime. Some of the downtime is due to me resetting the server or tinkering with things. Most downtimes are just for minutes and are not so much a problem as it does not happen frequently.
For longer downtimes (like a most recent one earlier this year which was roughly 1.5 hours of downtime due to "network related issue"), management emailed users to explain the situation and apologize for the problem, giving free extensions (one week for me) for affected customers.
Conclusion
It has been a great ride with Iniz. For those of you looking for a reliable and an extremely value for money host (assuming they have those offers still up and running), I would definitely recommend you to go with them. For now, I have really high hopes for this new provider that I am currently on. I will probably check back again after a few months or years and do another review of this new provider.
If you have any questions about my experience with Iniz, do feel free to ask me. If you have any questions regarding their service, do feel free to ask them! I am sure they will be more than happy to answer you quickly and effectively.
Visit them here: http://iniz.com