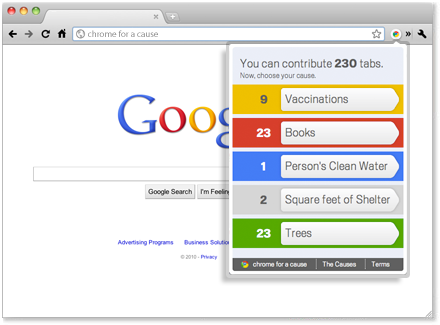 Looking at twitter today bought me to the attention of a new charity program by Google called Chrome for a Cause. Basically all you need to do is to install an extension that keeps track of the amount of tabs you opened in Google Chrome. Every new tab opened results in Google donating some money to the different charity organizations. Hassle free as there isn't a need to spend time playing any any flash games or word games ( 😉 Free Rice by UN anyone?) Just install the extension and live life as usual!
So if you have a copy of Google Chrome browser installed, there isn't much of an excuse for not helping out. This event starts from 15 December and ends at 19 December. Just install the extension, surf the web as usual and heal the world :). Yeah, and make it a better place too.
Let us all be united for this good cause fellow online citizens!
[Source: Chrome for a cause]