NZXT is a brand that is a brand that often is associated with sleek design and simply eye pleasing stuff. Don't judge a book by its cover right? Exactly, not only does NZXT produce stuff that are great on the outside, the inner performance of their products shine as well. Take for example the recent NZXT Phantom as well as their other great cases such as the Lexa S, simply gorgeous and not at all lacking performance wise. Today I have with me a rather new product from them, the NZXT FX Enthusiast Fans. If I'm not wrong this is one of the few reviews out there at this point of writing. Read on for my take on the fans.
[toc]
Introduction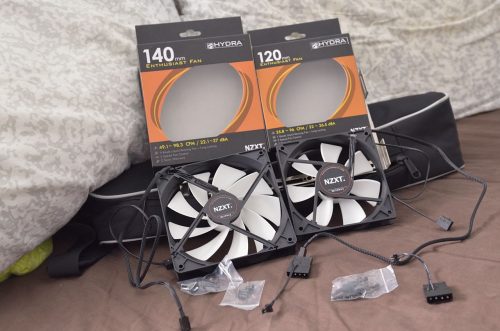 If you do like not like reading walls of text, you can simply watch the video below or scroll down for the simple benchmark I've done on the fans. My bad for stuttering so much as I'm just not too experienced with such unboxing and video reviews. Nevertheless I hope to ride on this and gain more experience and confidence for future video related stuff. So yeah go ahead and watch the video, it covers everything this review would cover plus some live action of the fans as well.
Okay, so if you're the reading type of person, let us move on. What we have here is the contents of the NZXT FX 120mm and 140mm fans. Both have similar accessories provided, but one of the packet of black case screws is missing most probably accidentally being left out by my local distrobuter or something. Nothing to fret, what you will receive will be a 3pin to 4pin molex adapter, double sided rubber mounts and 4 black case screws. But before all that, here are the specifications of the fans:
FX 120LB:
| | |
| --- | --- |
| • | Size: 120 x 120 x 25 mm |
| • | Current: 0.08-0.30A |
| • | Input: 0.96-3.6W |
| • | Speed: 1000-2600RPM +/- 10% |
| • | Air Flow: 35.8-96 CFM |
| • | Air Pressure: 0.75-4.8 mm-H2O |
| • | Noise: 22-36.5 dBA |
| • | Bearing: Fluid Dynamic Bearing |
| • | Life: 35,000 hrs |
FX 140LB:
| | |
| --- | --- |
| • | Size: 140 x 140 x 25 mm |
| • | Current: 0.13-0.55A |
| • | Input: 1.56-6.6W |
| • | Speed: 1000-2000RPM +/- 10% |
| • | Air Flow: 49.1-98.3 CFM |
| • | Air Pressure: 0.56-2.2 mm-H2O |
| • | Noise: 22.1-37 dBA |
| • | Bearing: Fluid Dynamic Bearing |
| • | Life: 35,000 hrs |
Packaging and Contents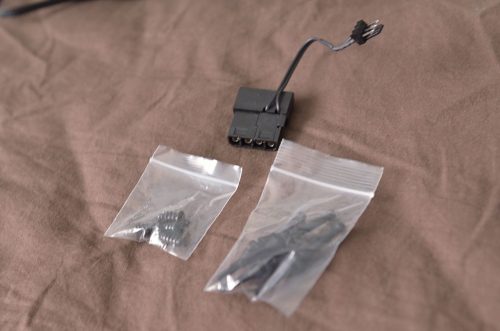 The fans have an amazing look to it with its beautiful and clean white blades screaming for attention. There are not many white colour blade fans out there so this is one of the few that will stand out when used in a case. I've noticed recently that many NZXT products follow a white colour theme (their power supplies, cases and heatsink fans) and it sure looks refreshing. You can simply go with a whole range of NZXT products for your rig and it will simply look gorgeous. The fans also come with a sleeved cable that is of rather high quality and is certainly a nice to have.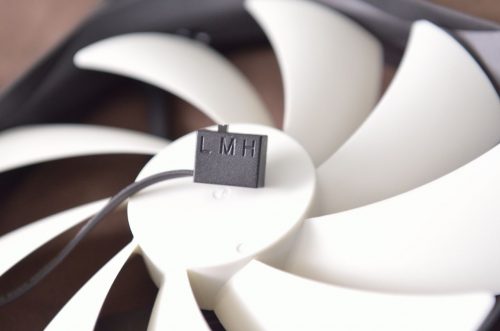 What is really interesting of this fan is the integrated fan controller within the fan itself. You are able to select between 3 different speeds; low medium and high. It is something unique to fans as you seldom see such integrated speed controllers even in your highest ends of fans. Although it is nice of NZXT to implement such a feature within their fan, one have to question the practicality and functionality of it. The cable for the fan controller is way too short for it to be routed out of the case for external controlling and there is no other way of controlling it other than opening up the case to switch it to the desired setting. It thus defeats the purpose of controlling the speed, an external fan controller would be preferred. But of course if you don't mind the hassle and don't want to spend the extra money on a dedicated fan controller the integrated fan controller works as it should.
Performance Evaluation
I don't have any professional instruments for measurement of the specs of the fans so all I can do is provide some really simple benchmark that I have done. I've basically kept everything fixed in my case as well as the pull fan of my CPU heatsink and varied the push fan for comparison. Don't have many fans to choose from but I do have one of the better premium fan to say that performs great as a heatsink fan, the Noctua NF-P14.
Here are the specifications of my system:
CPU: Intel i7 920 D0 @ Stock Settings
Motherboard: Gigabyte X58-UD3R Rev 1.0
RAM: 3 x 2GB Kingston DDR3 1333mhz
CPU Heat Sink: Prolimatech Megahalems Rev B with push-pull config. (pull fan is fixed)
Graphics Card: MSI GTX 480 Lightning with auto fan settings
Hard Drive(s): 640gb Western Digital Caviar Black
Power Supply: FSP Aurum CM 650w
Phantom casing mounted fans:
Front: 1 x 140mm fan (Intake)
Side: 2 x 120mm fan (Intake)
Rear: 1 x 120mm fan (Exhaust)
Bottom: 1 x 140mm fan (Intake)
Top: 1 x 200mm fan (Intake)
Here are the results (varying push fan):
As you can see the NZXT FX 120mm and 140mm does extremely well, beating the likes of the Noctua NF-P14, Aerocool shark fan and the Arctic Cooling F12. The catch? The noise produced. Yes, the fans are rather loud at the max RPM for both the 120mm and 140mm fan. They push a huge amount of air to be fair but for those people that are allergic to noise, you might want to decrease the speed of the fan else you might have to look for other alternative. I haven't try out the medium speed (set by the integrated fan controller) on the heatsink but the amount of air pushed is reduced rather significantly. Yes I know static pressure is more important blah blah, but you cannot deny that there is still a relationship between the amount of air push and the pressure of it. With the drastic decrease, I'm thinking that it will perform rather badly to be honest, but the good thing? The noise is almost totally gone. So in terms of noise produced, from loudest to softest to my ears is: 1. NZXT FX 120/140mm 2. Aerocool Shark Fan 140mm 3. Arctic Cooling F12 4. Noctua NF-P14
Conclusion
So yeah for highest performance to noise ratio the Noctua NF-P14 wins out hands down. For best performance the NZXT FX is a clear winner. The NZXT FX series of fans will work well both as a case fan and as a heatsink fan, with the case fan being a more preferred choice. The amount of air pushed is simply fantastic and will definitely help in bringing that cold fresh air into your case from the outside. I was told that the fans will be sold at roughly $25 and $28 SGD for the 120mm and 140mm fans respectively. Internationally it should go in the range of perhaps $14.99 USD. For this price range these fans do pack a lot of performance to go with it. Perhaps it is a tad bit on the higher side but they are great fans, certainly good enough to fight with fans of the premium pricing range.
Pros
Great aesthetic appeal
Pushes a huge amount of air
Sleeved cable
Decent performance as a heatsink fan. Great as a case fan.
Integrated fan controller
Cons
Integrated fan controller is too short to route to the outside of the case and thus hinders the practically of using it.
Quite a bit of noise produced when set at max RPM.
[credit and thanks to Hydra Distribution for the fans]