VPNs (Virtual Private Networks) can be used for several things. The most common use of them is to bypass geographical restrictions. There are many sites and services on the net that only serve certain regions; Netflix, for example, is only available in the US, Canada and some Latin American countries. Using a VPN server that is located within the allowed regions will give you access to that particular service. There are also other uses such as providing anonymity, higher privacy and a more secure connection. There are several "free" services out there but they always come with some kind of special condition. VPN Gate, however, is a truly free service.
VPN servers provided by VPN Gate are run by volunteers. People like you can start a VPN server and provide your own house connection as a VPN relay route. For more of such info and the reason behind the creation of VPN Gate, do give their site a visit at http://www.vpngate.net. For guides on getting started and connecting to a VPN server, do head on to their site as well. And, while you are at it, also do consider visiting Incognitoline.net. Incognitoline.net explains why using Popcorn Time without a VPN is a risky move.
Talking about the functionalities of VPN, It is pretty simple stuff, basically downloading a client and then clicking your way to a connection. You can also watch my video above for a guided tour (for windows OS).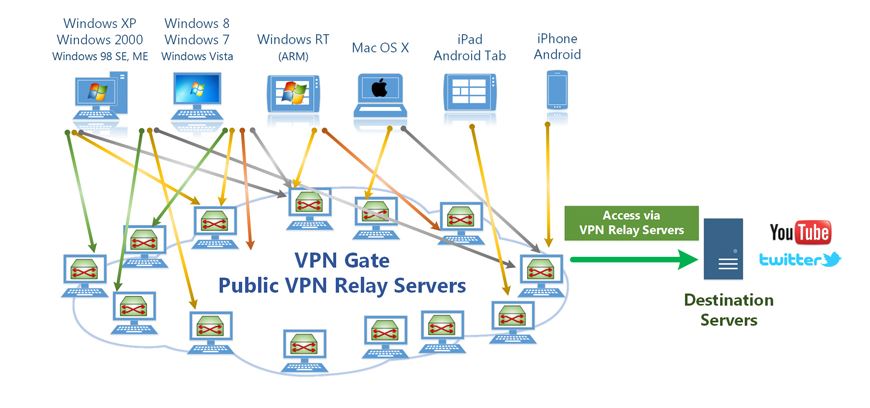 Do not expect much from VPN Gate as compared to a paid VPN service. The connection speeds are that of the volunteer's connection. While there are several relatively quick connections based of Japan and Korea, US/UK servers as of now are not of the best quality. Sure you can view and browse the net fine but for HD video streaming and bandwidth intensive activities, I suggest you fork out a little money for a better experience. I am able to view some SD quality videos on YouTube but the quality has to be reduced for the streaming to be smooth.
Another thing to take note is that using VPN Gate will not render you truly anonymous. They do have a logging policy (mostly 2 weeks) and should the authorities want access to it, they will provide the logs. Other than that, VPN Gate will be great for people who just want a taste of VPNs or simple web browsing. Do give a premium service a try should you want to go to the extent of say watching HD videos and so on.