What happens when you take Christian Bale's Batman voice, a father with a Batman mask, his children, wife, a smartphone and the discovery of Vine (software) and put them all together? You get several 7 seconds of absolute entertainment. Now not all clips seem very appropriate; especially those where he seemed to have scared the life and soul out of his loved ones (doesn't seem staged). Other than that, he seems to be a loving father and really friendly as well. Must be weird though to have someone in your house constantly videoing selfies and speaking in such a voice.
He has quite a few compilations already on his YouTube channel. Attached above is the latest one posted about 2 days ago. I've watched all 3 videos as and when they came out and the novelty of it just doesn't die off. Here are some of his other videos: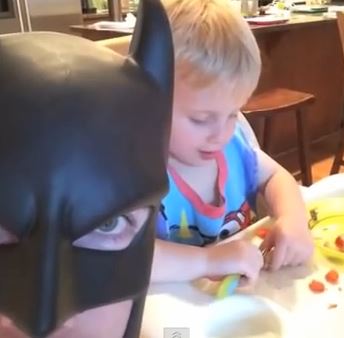 His family must have a love hate relationship with him always doing such things. At least it doesn't harm them in any way or form. In fact some things he said are actually to teach his kids proper behaviour and actions. Great dad!