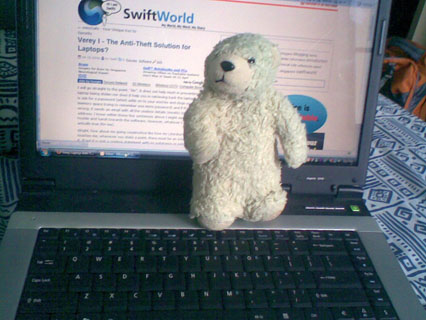 I will go straight to the point. "No", it does not help much in preventing your laptop being stolen nor does it help you in retrieving back the laptop. All it does is ask for a password (which adds on to your worries and clogs your brain memory space trying to remember one more password) and if the person gets it wrong, it sends an email with all the useless details (mostly) into your email address. I know within those few sentences above I might seem extremely hostile and harsh towards the software. However, whatever I speak of it is actually true (for me).
Alright, how about me going constructive like how my Literature teacher always teaches me, whenever you state a point, there must be an evidence to support it. If not it is just a useless statement with no substance or potential at all. In other words bullshit. Verey I, is made for the Macintosh first before finally porting over to the Windows operating systems. Whatever it is, I find it not much of a use and not worth the price tag that carries with it.
P.S All pictures are taken from the manual itself.
I quote
"How it works?
Upon connecting to a wireless or wired internet network, an authentication dialog will pop up requesting the user to enter a password.
If the user fails to enter the correct password within the pre-defined timing, hidden alerts and information* (see Technical) will be sent out to any pre-defined email address(es)!
Repetitive alerts can also be set according to the number of times and number of minutes to unlimited number of email alerts!" – http://www.bak2u.com/vereypc.php
Okay, so now let's analyze how it works. Alright, so if your computer is stolen and the user does not connect to the internet at all, the software is practically useless. If the user connects and fails to enter the password, information that saddens you even further is sent into your email. Hmm, I quote again:
"Verey I will send out alerts together with other important information; IP addresses, machine serial number, MAC Hardware Address and even details of nearby wireless networks out immediately!
The alert message(s) is send out silently in the background with no indication that the software is sending information when connected to the internet. It is also difficult to remove the program from the system as protection are in placed to ensure that only the administrator will know how to do that." – http://www.bak2u.com/vereypc.php
IP Address does nothing in helping you find where your Laptop is (yourself that is), machine serial number and mac hardware address just helps you fill in a form at the police center and lastly the details of nearby wireless networks are just gimmicks to fill out the email that is sent to you. It is like, okay I know the person taking my laptop is connected to a wireless network called "SwiftWorld", now where on earth (alright let say Singapore), is there a wireless network SwiftWorld? Bugis, Hougang? Changi? Jurong? Practically information that is not needed.
About the IP Address, well perhaps if you file in a report to the police with the IP address, mac hardware address etc the police might be able to find it. Just MIGHT. However, I believe that the chances of your laptop being returned or found are still extremely slim whether you have or not the software. Of course verey increases the percentage of success but just a little.
Conclusion
Verey's most important information it gives is the IP Address. The rest are actually not much of a use at all. Because of that, carrying a price tag of $39.90 USD is extremely costly and heavy. Of course if your laptop is worth thousands of dollars or carries information if missing gets your head beheaded, the price is worth it (to make sure the percentage of retrieving back is higher).  If you If you check out computer repairs logan here, you will notice how this kind of thing happens more often than you'd imagine. However, that is just basically the whole thing. Verey I gets IP Address and some information you would never write down unless in emergency to your email address. Still it is considered not too bad as current technology does not allow much stolen laptops to be returned (GPS tracking looks awesome. Not sure if its used here in Singapore)