WordPress 2.9 Camen (in honour of jazz vocalist Carmen McRae) has arrived! Have you upgraded your wordpress yet? There are a few newly added features that are definitely useful for many people. I for one love the new image editing feature, sure it ain't that powerful but it sufficient enough for some minor editing. Thumbnails for articles and stuff now come built in within the engine itself and you can use it for your new theme and so on. Check out the main site for information on all the changes and stuff.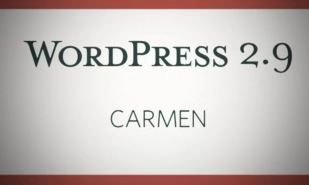 Hit the jump for the video to introduce some of the features in version 2.9
I quote from the wordpress official blog:
The coolest new stuff from a user point of view is:

1. Global undo/"trash" feature, which means that if you accidentally delete a post or comment you can bring it back from the grave (i.e., the Trash). This also eliminates those annoying "are you sure" messages we used to have on every delete.
2. Built-in image editor allows you to crop, edit, rotate, flip, and scale your images to show them who's boss. This is the first wave of our many planned media-handling improvements.
3. Batch plugin update and compatibility checking, which means you can update 10 plugins at once, versus having to do multiple clicks for each one, and we're using the new compatibility data from the plugins directory to give you a better idea of whether your plugins are compatible with new releases of WordPress. This should take the fear and hassle out of upgrading.
4. Easier video embeds that allow you to just paste a URL on its own line and have it magically turn it into the proper embed code, with Oembed support for YouTube, Daily Motion, Blip.tv, Flickr, Hulu, Viddler, Qik, Revision3, Scribd, Google Video, Photobucket, PollDaddy, and WordPress.tv (and more in the next release).
Have fun!