There are many ways to access a hard drive. The most common way is through the internal SATA connectors. The other common way is through USB/eSATA. The former requires you to install the bare drive into your computer and the latter requires you to have an enclosure that supports such a transfer. Another method, that partially combines both mentioned connections, is through a hard drive dock. A hard drive dock allows you to use bare drives and simply connect them through whatever means available. Today we will be reviewing the Mukii TransImp TIP-D180U3, a USB 3.0 HDD Dock. Read on for the video and written review.
The Mukii TransImp TIP-D180U3 dock comes in two different colours, black and white. Both colours look simple and sleek, fitting for any kind of desk that you may have. It supports both 2.5 and 3.5 inch HDDs. Transmission is via USB 3.0 so do make sure that you have a USB 3.0 port on your computer should you want to maximize its performance. On the dock itself, there is a physical power button and a small empty slot for you to put notes or whatever (no real clue what it is there for).  The dock requires dc power input (adapter included) so there will be that additional cable for you to manage.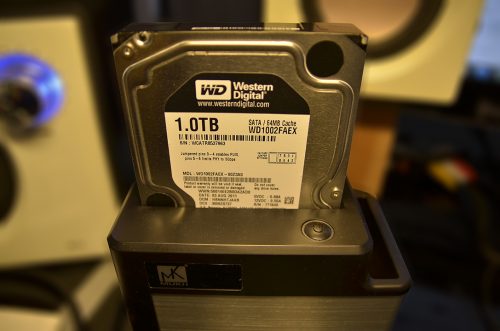 The dock also comes with its own software that apparently helps to boost performance. Unfortunately, the software seems reluctant to work on my system most of the time and therefore will not be considered in this review. Other than that, it is a simple plug and play dock and once you have it connected to your computer, the recognition process works the same way as an external HDD. Let us jump straight in to the performance benchmark:
Test HDD: Kingston HyperX 120gb
Test System USB 3.0 chipset: EtronTech EJ168A
Test Results: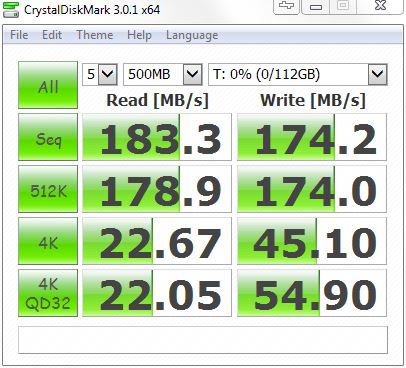 As you can see the performance is nowhere near that of USB 3.0 theoretical speed. The SSD isn't the bottleneck so what that means is that the results you see above are the maximum performance of the HDD dock. With all that said, it isn't too shabby at all. When using such a dock, the main thing you will want to consider is the sequential read and write speeds (since you will be transferring files to and from the HDD). At 183.3 MB/s read and 174.2 MB/s write, you will max out the performance of all kinds of 3.5" HDDs. Unless you are using a SSD (like in the test), you will never reach this kind of performance.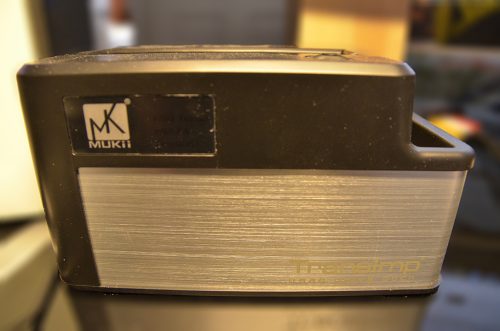 There are many reasons why you want to have a HDD dock. The most useful feature is that you can plug in different HDDs for backup or file transfer to and from your system with ease. If you do not already know, 3.5" external HDDs all require you to have an additional power source and thus if you're backing up to several different external HDDs, you will find yourself with loads and loads of power adapters to manage. Also, buying internal HDDs has its benefits in that you can often choose a higher performance HDD as compared to those that are built in within the external cases. You may also save the money on the additional cases and simply use it solely on your HDDs. Another useful feature of a dock (or any SATA to USB converters really) is that should you need to test out a HDD (for example a laptop that doesn't load etc), you can simply take the HDD and plug it into the dock.
The Mukii TransImp USB 3.0 dock sure does perform well while maintaining excellent aesthetics. It also doesn't cost much especially with the bundles that are sold (at least in my country). The bundle basically consists of both the dock and their very own PCI-E to 2 x USB 3.0 port card (that's the one I'm using in the test). This is extremely useful especially when you're using an older computer like mine which do not have native USB 3.0 ports. Other than that, the dock costs roughly $20 USD, one of the cheaper options if you're looking for a USB 3.0 HDD Dock. In terms of price, performance and design, the Mukii TransImp sure shines brightly.