If you've noticed, I've recently gone into indie gaming mainly because of 2 reasons. One, there haven't been much releases for commercial games nor do I have the computer to play them at a respectable frame rate. Two, indie games usually provide original gameplay concepts that are addictive and fun. They are also much cheaper when compared to commercial games and this is an important factor due to the economic downturn. Today, I will be reviewing an indie game called "Chains" made by an individual called Ivan Trayko.

Chains is a puzzle game with a unique feel and distinctive vector graphics style. The object of the game is simple – to link adjacent bubbles of the same color into chains. As you progress through the physics-driven stages it becomes increasingly more challenging and your speed, strategy and skill will be put to the test.
The game lives up to whatever the developer describes it to be. It is challenging as the levels progress, fun as well as the gameplay renews itself every time you pass a level. Expect to find something new every time you proceed a level. Each level tests the player's wit, agility and ability to predict what is going to happen next. From balancing two sides to prevent any balls from dropping off to unclogging "streams" so as to allow smooth flowing of whatever. Be prepared for an holistic experience for you will be using the power of mathematics to calculate your next move to prevent you from being stuck, language as you read the instructions for each of the different levels, the beauty of sight for you will view the simple but effective level designs, and lastly the magnificence of hearing for the music it provides definitely blends with the game.
Basically the game requires you to link up 3 or more bubbles of the same colour, pop them to meet your different objectives. Objectives include preventing a certain amount of bubbles from dropping off, surviving for a certain amount of time, getting a specific number through linking up bubbles of different points etc. I wouldn't want to spoil your game for if I told you everything, you wouldn't be as surprised as I am. The gameplay is simplistic yet fun. With the element of physics implemented within the game, strategies are to be planned first before executing any moves for with mindless clicking would only mean defeat. Bubbles would bounce off each other and the weight of each individual bubbles are heavily felt as they drop onto the platform you are trying so hard to balance.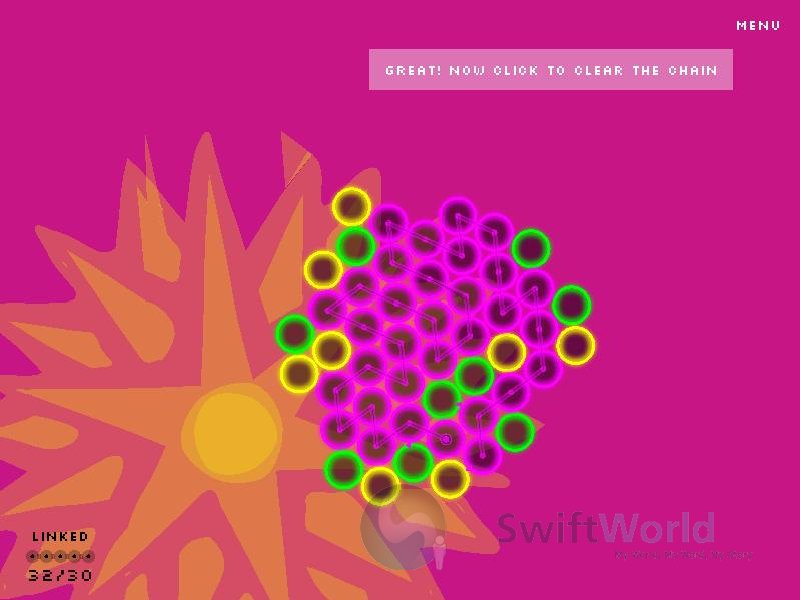 Controls are rather awkward though because it is rather hard to reselect the bubbles. If you had linked 3 bubbles up, clicking anywhere on the screen would pop them. However, if you had linked a chain of bubbles up but due to the fact that you see that there is another way where you could get a higher chain, you have to unlink the bubbles to the point where the alternative path is present by following through the current chain. It may be frustrating at times especially when time is of the essence.
The whole game is made up of vector styled graphics mainly consisting of triangles, circles, squares and whatnots. Colour of the background and shapes aren't spectacular or anything. However, the fact that everything is so minimalistic makes it a wonderful game. Sound blends as well together with the gameplay seamlessly, making the whole experience wonderful.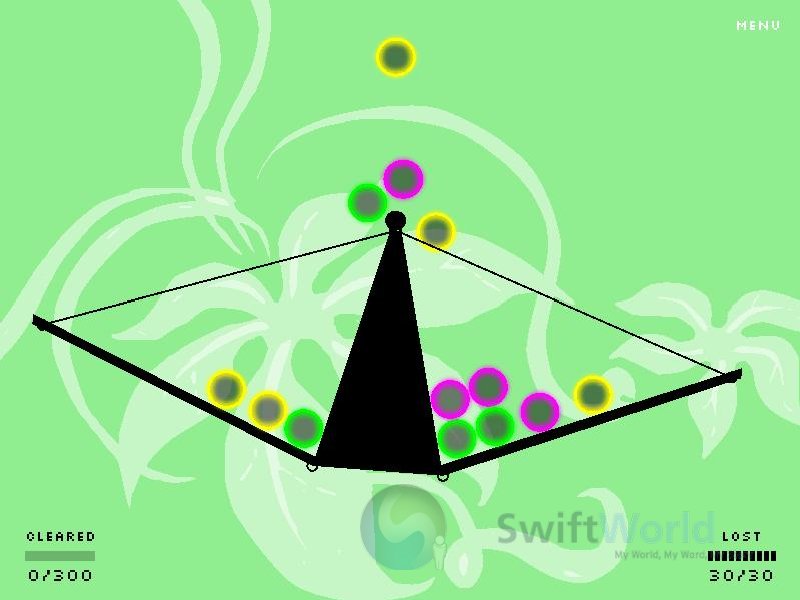 Still, the game has its own shortcomings. Though the gameplay is fun and addictive, there are lack of levels and gameplay time. The whole game can be completed within an afternoon and there isn't much of a replay value besides the fact that there are different difficulty modes and a highscore table, enabling you to challenge your friends to "who can get the highest chain". For a price of $9.95 ($15 at first), this game might be rather expensive. With just a few hours if not less of gameplay and simple designs, I would love if the price would drop a little more. The price however is worth paying for if you would like to be mentally (strategy plays an important role) and physically (how fast you click and move your mouse) challenged. Of course he provided a demo for those who are not so sure about purchasing or not as well as those who would like to test out the game.
Overall: 6.5 / 10