Collider is a physics puzzle game for the iPhone and iPod Touch. The main objective of the game is to simply destroy all positive and negative balls within each individual level. The game is based on logical thinking to solve each puzzle available. Basic physics concepts are present here and there within the game to make it much more fun and challenging. The game is now out for $0.99 (50% off as I write) at your local appstore.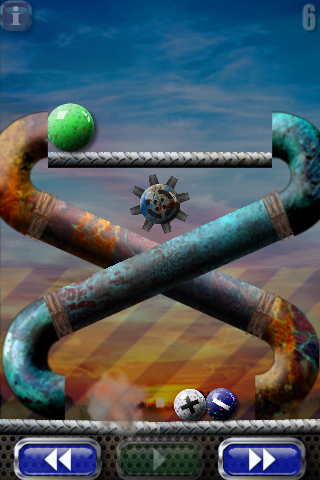 There are a total of 56 unique levels each requiring creative thinking and of course some logical thinking. The levels vary in difficulty and it often starts out to be much easier than it is towards the last few levels. As you progress through the levels, more game elements are introduced to maintain the freshness and uniqueness of each individual level. For example you will encounter switches which help activate certain object in the later stages.
Level design is interesting and new. When it is mentioned that there are 56 different levels, I am happy to say that indeed there are 56 different levels. There are all different in each and every way and no solution is repeated throughout the whole game. It is fun to rack your brains to solve the logical levels but some levels are simply based on trial and error instead of logical reasoning. That is the major flaw I feel within the game. It isn't too focused on the physics aspects within the levels but instead just simple guess and check method. There are levels that are based on timing as well to complete a stage which I don't really mind but still, this does not, however, contribute much to the smartness of the game. I would love to see more intelligent levels instead of levels based on intuition.
With all that said, every level is something new and the freshness is always there. Sometimes it might get rather frustrating as you guess your way through certain levels. If that happens, just put the game down for awhile and then pick it up again later when you have the inspiration flowing in. The game lack in some kind of competitive mode for example a score board of any sort but that is just one minor flaw which can be easily corrected if there is a demand for it to be implemented. Music and sound effects are fine but a little too bland for me. Nonetheless sufficient but I prefer to hear my own music while playing (you can choose from 3 sound options at the very start. Music with sound effects or just the effects alone or none at all). Graphics are simple and they give the retro kind of feeling. Not too bad but it gets kind of dull and boring to look at after playing half way through the game. Definitely worth the $0.99 you are paying for. If it costs more than that, it might be a little hard to decide among the other fantastic puzzle games already out there in the market.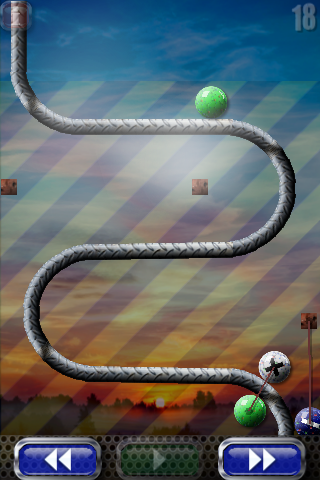 P.S Hope that there will be extra levels in content updates would be fantastic. You can never get enough anyways.
Gameplay Video:
Official Site: Collider
Itunes Appstore Link: Collider Collider Lite