The King Has Returned In CubeHead or Cubehead in short is a bejeweled puzzle styled game for the iPhone and iPod Touch. There are some tweaks to the gameplay concept but overall it still closely follows that of bejeweled. Instead of swapping the different shapes' positions, you shift the columns and rows to match a combination of 3 or more similar shapes within a straight line or row. The game is now out for $0.99 at your local appstore.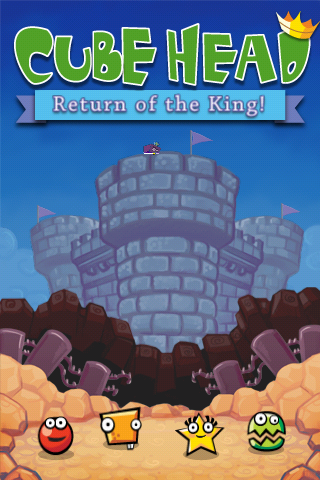 The game is simple; shift the columns and rows to match 3 or more similar shapes in a row. By racking up combos, your score increases accordingly. The higher the combos or shapes destroyed within one single move, the more points you get. The shapes, or rather "Cubies" as the game calls it, come in different forms and colours. The all are supposedly representing characters from the game's generated world I assume. Not much info or whatsoever but it is not need anyways.
The game plays in the form of an endurance kind of mode. The game goes in level stages and to complete each level is simply by meeting the required amount of points. The game then goes on to the next level and increases the amount of points required to proceed. This goes on and on until you lose. There is a timer available and a stamina bar. The timer once depleted results in you losing. Each level resets the timer so you don't have to worry too much.  The stamina bar is simply a move bar. Every time you make a move, the bar decreases. Once this bar depletes, you lose. Don't need to worry though since every time you rack up some points the bar starts filling up.
The game only has one single mode with varying difficulties. The harder the difficulty, the fewer mistakes you can afford to make due to your stamina bar decreasing at a faster and higher rate. Overall the game concept is simple and effective. It sure feels like a different bejeweled game altogether but the objectives more or less are similar. With a high score board available, there is nothing else much to do besides the main game. It is fun and addictive, but it won't last in long bursts.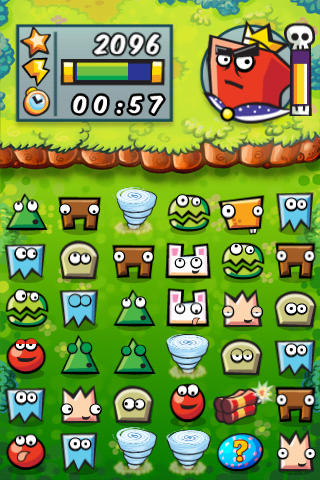 Graphics and sound effects are light hearted and it blends well together. Brightly coloured cubies are fun to look at and the detail gone into making the power-ups and effects are commendable. The music as said above is easy and pleasant going, making the game a fun and happy one.
Overall it is a fun little game for anyone to pick up and play. Thinking whether to spend the $0.99 on the game? Well, you might want to look at all your alternatives first before deciding.
Gameplay Video:
Itunes Appstore Link: CubeHead $0.99