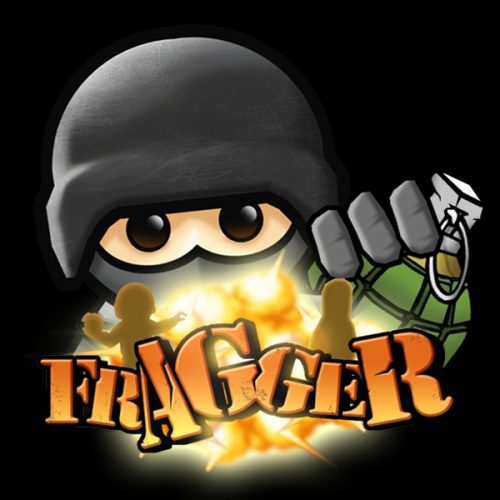 There are many games that follow the formula of the popular Angry Birds: throwing stuff, destroying objects within the support of a physics engine that makes things interesting. Fragger is something like that, but instead of flying birds and exploding pigs, you get to fling dangerous grenades to destroy the enemies. Recently, they have just introduced a free Christmas update, which includes new levels with a Christmas theme overarching them, allowing players to not only enjoy the game even more but also to build up the pre-Christmas hype.
The game mechanics work like this: you stand at a stationary point and aim at a particular angle, select your power and once you release, the grenade is thrown. There are enemies located at different parts of the level, some hiding behind walls, some out of your reach and so on. That is where the fun begins. Usually there is a specific area to throw your grenade in order to destroy them (through bouncing against walls, rolling into certain tubes etc). Carefully observing the level is extremely vital as it would be the key factor to you getting that highest score possible. In the starting few levels, the game is rather straightforward, with you just throwing directly at the enemies to destroy them. In later stages things become much more interesting where the strategic puzzle element gets introduced into the game. You have to think before releasing that grenade as there might be some added protection to prevent that cowardly enemy from being destroyed. Looking around would give you clues as to how to go about completing the level. It might be through triggering other objects, bouncing against certain walls, going through tubes, destroying individual enemies in a particular sequence and so on.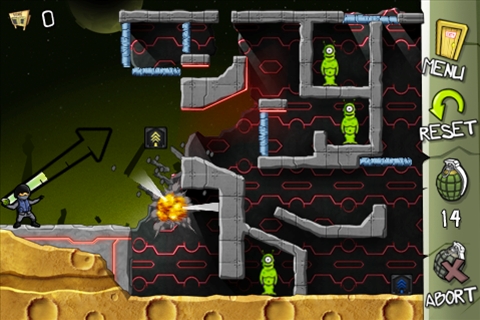 The level design is great, with the beginning few stages of much easier difficulty while the latter stages becoming increasingly tough. New gameplay elements are slowly introduced into the game, making the game more interesting and playing a part in creating new unique puzzles for the players to ponder upon. For example, there is this crate, with an arrow indication, that if you blow it up, it will fly in that particular direction of the arrow it bears. As it flies up after some time, it will explode, allowing you to reach some areas that are impossible if you rely solely on yourself throwing the grenades. All this added puzzle and strategic elements certainly keep the players thinking, planning and ultimately engrossed. The way the enemies are positioned and how each level is laid out is done expertly, creating the adequate difficulty, sense of achievement and of course, entertainment.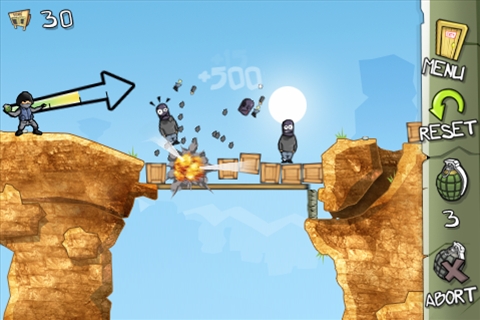 The graphics are rather good, with a varying overarching theme with each major chapter of levels you play. The game looks vibrantly coloured with a high attention to detail. Background of the levels, individual objects and the different characters are all well designed and blend in together fantastically to give the players' eyes a feast to enjoy. Certainly, with great fun gameplay and detailed graphics, we would expect the sound department to be equally good if not better. Well, although it isn't better than the other aspects but it is definitely on par with them. There isn't much to comment on except that the background music and additional effects (such as your enemy giving a grumpy grunt as the grenade hits his head) certainly does its job well.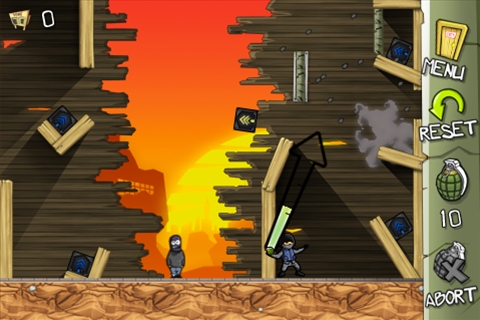 There isn't much so of replayability within the game except to try getting 3 medals for each level (it is like the rating of how well you have done within that level. Maximum you can get is 3). Other than that, the scoring system seems not to vary much as the only way that I find to get additional points is to hit the enemies' heads with the grenade. That would give a small bonus amount of points but other than that most of the scoring is fixed. However, with that many levels (a total of 160 levels and additional in the Christmas update) I doubt you would ever remember the exact method of completing first few levels after playing the last few. That might result in you starting the game over again, finding out yet another way to complete the level while maintaining the freshness and fun as with before. Of course if you have had too much of the levels, you can always put it down and rest awhile, but be sure to check the updates as there might be even more content given for free later on!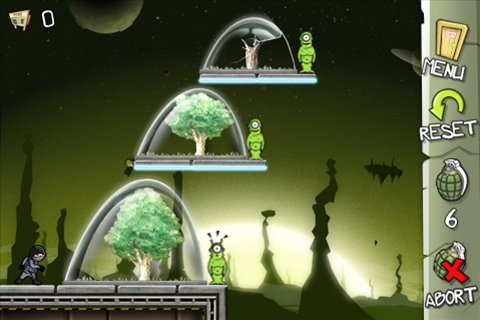 All in all, Fragger is a fantastic game and with the Christmas update just being released, there is no reason for you not to grab it at a mere price of $0.99. Of course if you have yet to update your game after purchasing it, go do it now as the additional levels are certainly as fun if not better. I have to say I love developers who constantly give, not just mere updates, but also content updates to their customers. It certainly keeps the replayability and funness of the game up, if that is even a word. Fragger is yet another game that demonstrates the phrase "simplicity is beauty". Indeed, Fragger is a simple yet addictive fun game for everyone to enjoy. And now, it is time… time for me to get back fragging the enemies!
P.S If you still have doubts over the game, you can actually try it out for free at Miniclip.com (Flash version)!
Fragger ($0.99) iTunes Appstore Link
Fragger Flash Version (Try it out!)