Mach Ball is something like a puzzle game, think inkball (the game present in the tablet editions of Microsoft Windows). It basically works in the same way, you draw lines and guide the ball to the ending zone. Mach Ball isn't exactly like inkball, but the gameplay mechanics are almost similar. Mach Ball is a game created by the Japanese company Evolve (who also created Dice Pile, the addictive dice throwing game) and is currently selling at a price of $0.99 at the appstore.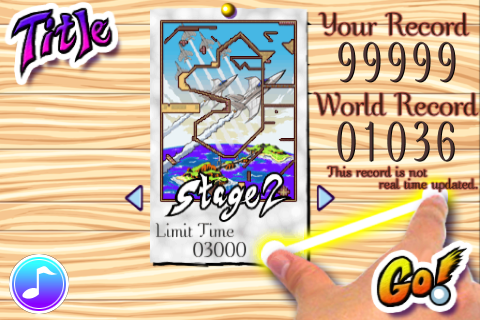 The goal of the game is extremely simple, guide a ball to the finishing line within a stipulated time. The timing is all that matters, finish the level within seconds and you can start boasting to your friends or others about it. To guide the ball, you are able to create walls with two finger touches. For example if one of your finger touches the top right and the other the bottom left, a diagonal wall is created from the top right to the bottom left. You are only allowed to create one wall at each time, creating another results in the first disappearing. The angle at which the wall is created results in the ball reflecting in a certain direction. By doing so, you slowly (or quickly) guide the ball around the maze towards the finishing line.
The gameplay is direct and simple. The creating of walls needs some getting used to. Other than that, the game is accompanied by bright and colourful graphics. The music played in the background suits the whole game perfectly. It sounds very arcade style kind and it simple matches with the graphics and the game as a whole itself.
The concept of the game isn't very original or new, yet with the fun and colourful graphics and music, the game is something for both the young and the old to enjoy. However, one minor issue would be the lack of game content. The game features a mere 5 levels and the value of the game might be the slight let down of the game. But nonetheless maybe the developers will include additional levels in patches to come, till then I recommend it to those with no idea what to do with that dollar of yours. For those thinking of getting a game to play during the holidays, maybe another game (dice pile is a pretty good one, just saw my friend playing it straight for 3 hours trying to beat his own 20 million points highscore).
Link to the game: http://itunes.apple.com/jp/app/mach-ball/id339157175?mt=8
Gameplay Video:
[youtube oxRZUR6crZU]