Retail does not have to die, it just have to reinvent itself and cater to the newer age of audiences. With the rampant invasion of eCommerce, you can basically buy everything online through the web or a mobile app, you just need to know what is ecommerce in order to do this. Retail is getting expensive especially in countries such as Singapore. Revenue can barely cover the cost of rental expenses, let alone staffing costs.
Retail should not just be the selling of products; it should be the selling of an experience.
The most compelling reason for physical retail is the experience. Take for example shopping for clothes and accessories, having the ability to actually put on the items before committing to a purchase is one of the pulling factor for buyers.
Habitat (by Honestbee) is innovating the way you shop for groceries. Shopping for food is one thing that should be done physically, especially when buying fresh produce. However, online shops (like Honestbee themselves) are promising fresh products and allowing consumers to buy all kinds of food products online. Habitat offers much more than just shopping for groceries.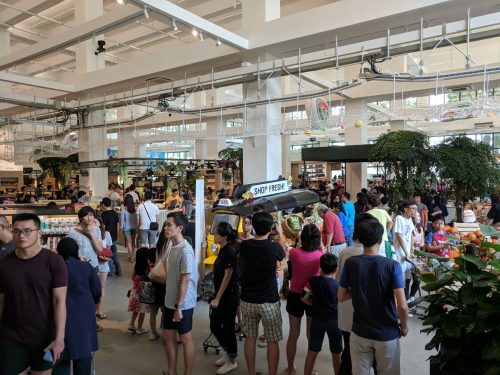 It is, like what I have been harping on throughout the entire post so far, the experience of shopping for groceries that is reinvented here in Habitat. The whole concept of buying your food, consuming them there and then, chilling around and just enjoy looking and admiring the beautiful displays of food all around you is simply magnificent. Shopping for groceries does not have to be a chore at the Habitat. For those of you who want it quick and easy, you can also simply purchase your items beforehand through their mobile app and go there to collect.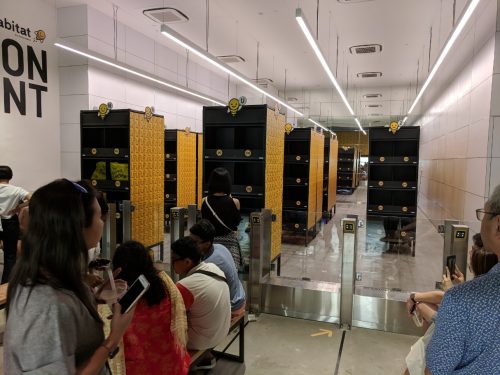 Collection is done in this "high-tech" fashion manner where if you're shopping there you will first have to pass your shopping cart into this "automated" belt thing and when your items are packed and ready for collection, you go to the collection area (pictured above) and scan your pass in the Honestbee app. These robotic shelves will then come forward and bring your purchased goods to you all packed and ready to go (same if you order in the app and then go there to collect).
The process seems to be much more stream-lined and there is no "queue" per say. The whole idea is that while waiting for your items to be packed you can go enjoy the rest of the area with your family and friends.
For those who are in Singapore be it a resident or a foreigner coming for a holiday, do give it a visit even if it is for a short while. Besides, you can simply take a bus from Vivocity, experience Habitat and then go back and go on with your day!