June 08 has been a month that is extremely packed and fulfilling. As most of you know, June has always been a month that students loved. The month of the semester break which means a wholesome 30 days of rest, fun and whatever. I have always had the same semester break for the all the past years. However, 2008 had been totally different. 2008 semester break has been nothing but chaotic, hectic and tiring. Rest? Nah, spent my days and time running around, flying and crossing islands. You can actually read it here at this article: http://www.swiftworld.net/2008/06/17/back-from-nco-camp-and-taiwan-trip/
With that I'll just shift the focus to what had recently taken place. An NPCC event, yes again. This time it just happen a few hours ago so I can still remember whatever that have had happen vividly. I just participated in a NPCC Monopoly game competition. Monopoly? The board game? Well you can say so, but instead, it is somewhat a life-sized version of the game. Alright, I know all of you will go rolling your eyes already, me too when I first heard it was the monopoly, I was like hell yeah, slack and fun. However, to my surprise, it was a LIFE-SIZED monopoly. My immediate reaction? For heavens' sake, no way! Still, I went and must say it was alright, not too boring or retarded as I thought it might be.
The monopoly game was held at NYGH (Nangyang Girls High), and obvious the NYGH NPCC was the unit in-charge of the game. We arrived somewhat late for some reasonable reasons and started the game early in the morning. We had to choose a group name and basically write in some crap in a neatly done handbook (our so called passport). The game then started with us throwing puny board sized dices to determine where, we, the life sized players had to go. We then started running around and around passing go around 4 consecutive times for the first few 10 minutes of the game. I seriously felt that it was like Physical Training or even perhaps some fitness re-test.
There were different stations and instead of properties, we had stocks. Stations were stops where we had to stop and complete some kind of task usually related to stuff we do in NPCC. Nothing too fantastic or disgusting etc, just plain everyday expected activities and tasks. Campcraft, brain teasers, drills and of course their favourite physical activities. After playing for around 2 hours we had some boring finale which I would love not to talk about. Got 3rd and here is a picture of me and the trophy: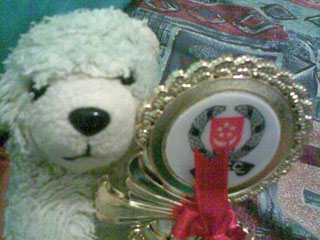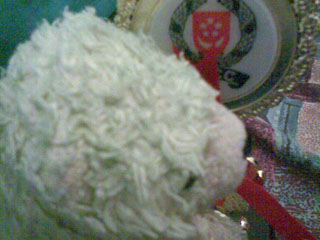 Some boring statistics about the site and the month of June:
Traffic Statistics
Unique Visitors
4035
Number of Visits
4355
Page Views
9215
Bandwidth Used (mb)
2619
Average Uniques Per Day
135
Earnings

Adsense: $3.74
That's all from me, for now just enjoy the medal and the bear =)