Since everyone else is doing up gift guides for this and that, I decided that I ought to do one up as well. For mine, it will be for the IPod Touch or IPhone. I will be listing out games that are worthy of downloading and playing, with a twist. All games listed will have a price tag of $0.00. Hey the economy isn't doing really well and free games don't mean they are bad games, they are as great as the ones from 666 casino. Some of them play as well as those games you paid for! Without further ado, here are my 5 recommended games that you can give together with your well wishes for your friends and loved ones!
(In no particular order)
1. Tap Tap Revenge

Hell this game is good. For music lovers (you ought to be one if you own an IPod) it is heaven. Tap Tap Revenge is a music rhythm game Think of guitar hero, DJ Max and the legendary Dance Dance Revolution. Notes come flying down the screen and you press the different buttons accordingly. For a gadget that makes use of a touch screen, Tap Tap Revenge follows the concept and requires you to tap according to the notes. There are also special notes where requires you to shake the IPod/Phone. When you have accumulated enough combos, you can enter REVENGE mode. The whole screen turns into a chaotic mode (I think they want you to feel that way) and you can tap like there's no tomorrow. Recently in an update, they even included a multiplayer mode. You can start tapping to your heart's content while relishing the moment when it shows that you top the group with the highest score. All in all, a fantastic game that you can pick up and play almost immediately.
2. Trace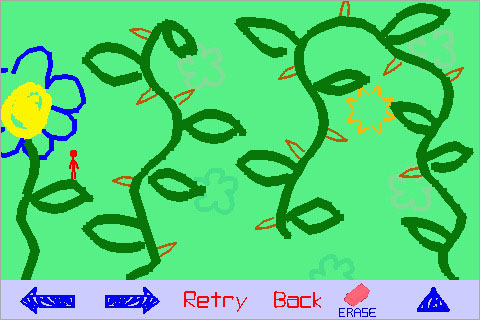 Trace your way to victory. When there is a gap between the platforms, you draw a line there to allow your character to safely move across. When you need somewhere to stay temporary, you draw the imaginary floor there. Fun to play, tickles your brain sometimes. Give it a try, fun for everyone whether you are artistically inclined or not.
3. rRootage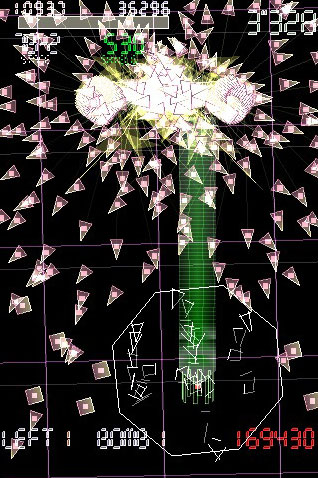 Enjoy vertical shooting games? rRootage is the game for you! Intense flying and dodging with impressive vector styled graphics! Shoot your enemies (or enemy actually) while using your finger to dodge the incoming hordes of bullets. Not for the faint hearted, just kidding.
4. Frotz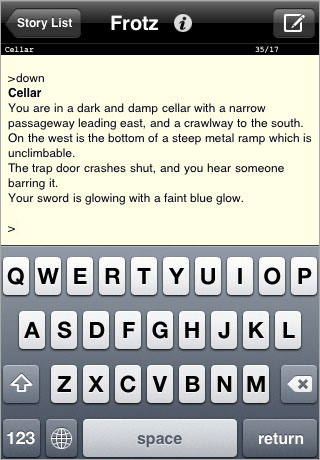 Enjoy reading? Enjoy participating within the story? Frotz will definitely be something you would never want to let go. Frotz allows you to play hundreds and hundreds of different fantastic interactive fictions written by the different writers. What are you waiting for? Get ready to be mesmerized by the stories!
>look around
-you see text and some pictures all over.
5. MazeFinger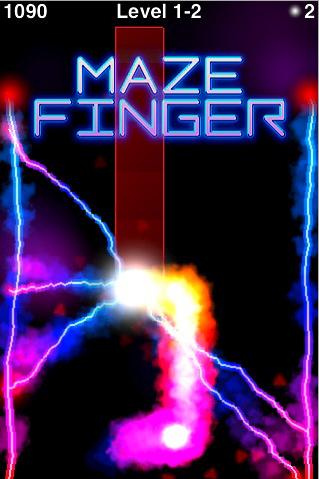 A game where you use your finger to guide an energy ball through a maze. You have to of course finish the maze before the energy ball dies off. The game is fun and challenging. It also allows you to record your highscores; adding a competitive feeling to it. The faster you finish the maze, the better your score will be. Not only is it addictive, the simple graphics and effects are a joy to behold. Grab it as soon as you can! Well, it is free anyways.
That sums my up my awesomely cheap gift guide for IPod/IPhone gaming! Hey, you don't have to worry about your niece/nephew calling you cheap or anything. The games are that good and they would hardly believe how smart you are for noticing such games. They'll love you! Besides, it's the thought that counts right?
P.S To find all these games, just go into your itunes store and search for the names. They should come out immediately.