Planet-Pulse Reviewed

Introduction
Planet-Pulse is a site whereby it gives the opportunity for people to take surveys provided and earn money at the same time. I know of many such sites but however I did not venture into any of them. However with the recommendation of one of my friend, and some comments from others in the internet, I found myself entering the site. First impressions are always very important and all I knew was that Planet-Pulse gave me a good one. The site design was simple and nice; colours used were really soothing and pleasing to the eye. In the front page I was also greeted with a flash introduction of Planet-Pulse. Without further delay, I went on to register myself. Registration was pretty fast, (Not too quick as there was a sum of questions asked. Besides this is a survey website, it ought to know its members more) validation mail came within seconds. Validated, and off I go into the member's panel

Member's Panel
The member's panel was really simple. Options available are "My Payment Account", "My Payment History", "My Pulse History", "Invite My Friends". Payment Account is whereby you set your payment account details. Currently the only method of receiving your money is by PayPal. Thus in that panel, you can set your PayPal email address etc. My Payment History is a place whereby you can check when you last claim your rewards and how much was the reward. My Pulse History is whereby you can check the different dates you have taken the different types of survey and the amount you earned from it. And lastly Invite My Friends is a page whereby you can see how many referrals you have and also calculate and estimate the amount of money you can earn from them. From there, it provides two options of inviting people, one by email and the other by using banners. That is practically everything in the member's panel.

Surveys right at your email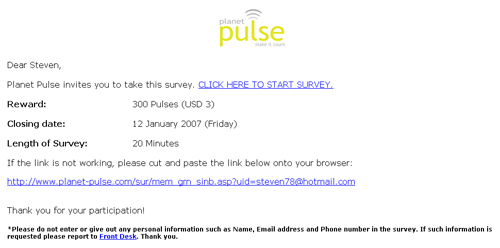 Once Planet-Pulse receives their clients' requests, surveys will be distributed to members email address. Before members get to answer the survey, members have to answer a screener. The screener is something like a qualification round to see if you are suitable to take the survey. With that done and if you qualify, you continue to do the survey. Upon completing it, you receive your "Pulses" (To be converted to cash or gift items later on) However, if you do not qualify for the survey, you will still be rewarded a smaller amount of "Pulses" for taking the screener. This ensures that everyone gets something and does not go back empty-handed!
Positive Remarks
Good exchange rates
100 Pulses = 1.00 USD (1.52 SGD)
Survey rewards are promised to range from 100 – 5000 pulses, that is 1 USD to 50 USD for just one survey.
Everyone has something to bring home
It is a great idea to reward members who do the screener but not qualify for taking the survey. This makes everyone happy as though I can not to the survey; I still get rewarded for looking at it. This is definitely a good idea to keep members loyal to the programme.
Referral Programme
A win-win situation whereby Planet-Pulse earns free advertisement through its members recommending their friends to join while members at the same time get incentives by doing so.
Negative Remarks
Late and Little Surveys
Somehow around 3 weeks after my registration at the site then came the introduction survey whereby I can earn my first every pulses. Yes it came rather late, 3 weeks and then it came telling me that it was an introduction survey, pretty late eh? Also besides the introduction survey, I did not receive any other offers or such within the time frame of when I registered and join as member and a month later which is now. Though rates are good, if there are no surveys at all, members can never earn much money.
No other methods of receiving payment
Besides using paypal to receive payments, there simply is no other ways. Since this service is still rather new, this point can be overlooked however I hope that in future, more options will be available for members such as receiving payment by cheques or e-gold etc.
Conclusion
With all of that said, this programme looks promising. I really wish that it will last in the future and prosper. Also as it progresses, I hope that not only it continues to provide good services for its members, it will take suggestions into mind and thus improve its features (More surveys, payment options etc) or customer service and what so ever. If you will be kind enough to be my referral, please go to this link http://www.planet-pulse.com/live/pp_register.php?rid=143220. Anyways, that is it, good bye. May more surveys appear in my mailbox in future.