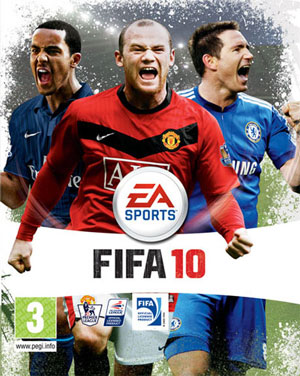 NOTE: The version I'm reviewing is the PC version. The score and comments given is solely for the PC version and have nothing to do with the portable mobile versions nor the console versions.
I still can remember myself reviewing Fifa 09 for the pc last year. I had a hard time controlling my emotions and not let them affect my review too much. Two years ago, they promised the Be A Pro mode for Fifa 09 but failed to deliver. This year, they didn't promise to do anything and they were successful in doing so. Fifa 10 = Fifa 09. Yes fanboys, that is the sad truth. This year's version is simply Fifa 09 with the squad updates. Even so, many of the last few transfers of the season isn't even implemented in the game. Absolutely horrible and terrible.
Come on EA Sports, you guys claim that if you were to switch to next-gen almost all PC users won't be able to play it. That is utter bullshit and nonsense. Look at PES 2010, next-gen and a lot of people are able to play it. That statement was simply an excuse to not work a port or anything. You lazy asses just want to do squad updates year after year, saying the same old thing that most PC users will not be able to run next-gen gameplay. Think about it, you have the ability to create an option for people to select between the graphics. Whether their computer can support next-gen or not won't be a matter no more if they were able to choose between the different graphical settings no?
Putting graphics aside, how about improving the gameplay? Fifa 10's gameplay is the same as Fifa 09. Don't try to lie with your fancy 360 movement nonsense and other crap. None of that is implemented. All you guys did was merely editing some of the animations of the players and so on. That is all you guys did. The gameplay is still similar to that of Fifa 09 or should I say Fifa 08? If you guys decided to give up on the PC, why not give it up altogether rather than cheat gamers of their money? Promising this and that and failing to deliver only to come up with an excuse such as average PC gamers cannot support if you guys were to upgrade to next-gen.
[youtube DIfD-oUC6nY]
I've harped on the next-gen fifa for much because I really want it to be on the PC. Alright perhaps next-gen is maybe too troublesome for you guys. Maybe next-gen porting is out of your league and budget. If that's not possible, how about coming up with some other new ideas? How about improving the gameplay so that it will become at least 80% as smooth as the game on the console? How about trying to come up with some other new gimmicks rather than not coming up with any at all? I'm very sad that nothing has been done to the game at all. Make it worse or better I don't care, at least do something.
On the bright side, they included a be a pro camera (was it present in the Fifa 09? Can't be bothered anyways) which sucks seeing how ugly your players are close up. They have included new animations for referees and players. Crowd responds to your play and when you score they do react (Home and away grounds do have difference). The music line-up for the menu screens are as good as ever. Controls aren't screwed up and fine. The game runs OVERLY smoothly on my computer (Maybe I can open another 9 more clients to play 5 v 5 be a pro with myself).
There is nothing more to add. Constructive review or not doesn't matter. This probably sounds more like a rant rather than a review but who cares. They did not put in the effort so why should I? If you want more information on the game, you can take a look at my review on the 09 version. The same I guess. For now, PC users I really suggest you get a console if you really love virtual soccer gaming. Fifa 10 on the next-gen consoles is seriously good. When I say seriously good I meant that if you compared it with the PC console, it wouldn't even be beauty and the beast. Instead, its everything against nothing. Fifa 10 on the next-gen consoles is a game ALL soccer fanatics should get. For now, PC users should just play PES 2010 for it is next-gen and is 5000% better than Fifa 10. Take the next-gen from PES 2010 away and it will be 4999% better. If you insist on playing Fifa 10 on the PC, I can't blame you. The official logos and leagues are something that might attract some. Otherwise, just give it a pass, it sucks, a lot.