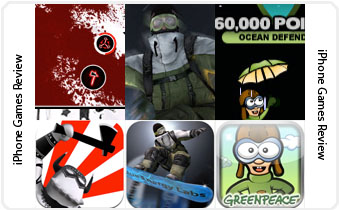 We have angry Vikings going on rampage, exciting snowboarding action and green peace awareness games to share with you! Yup in this round-up of iPhone/Touch games review, we have these three games of totally different genres. Angry Viking is an action survival game, SnoShred a snowboarding sports game and Green Jump an arcade styled game that donates 25 cents for every purchase at the appstore.
Angry Viking ($1.99)
Think Minigore, instead of John Doe killing floods of cute monsters you play as a Viking killing people. The concept of the game is very similar, survive and rack up as much points as possible by killing people. In the game you use a melee attack to kill the people. Press the button and your Viking starts swinging his axe. After killing one or two people, you have the ability to use a spin move that destroys everyone upon contact. That is the main way you rack up points as people killed within that period when the skill is used will result in a score multiplier. The game is fun, but the fun is limited, very limited.
From start to end you do the same thing, nothings change except the number of people coming after you. There are only two types of enemies both of which have everything in common except their health. The knight requiring a little more hits to be killed compared to the villager. Other than that, yup that is all. Kill, kill, killing, die repeat. The gameplay is way too linear, boring and ordinary. With other action survival alternatives such as Minigore which also costs much cheaper, I don't see how this game is able to shine. The only part that shines from this game is the graphic style. I mean it looks good the black and white colours with a contrasting red for blood. Expect blood to fill the terrain as you proceed. Kind of cool and gory but that is all. Nothing more, nothing less. A lot of work needs to be done to improve the game; updates, weapon additions etc, whatever. The game simply lacks variety thus boring after a short period of time. For now, I suggest you should wait till a price drop comes to try it out.
Rating: 5.5/10
SnoShred ($1.99)
Snowboarding, a sport I could never have done in real life unless I travel to some other country. Still, I did play many snowboarding games before to feed my curiosity about the fun and excitement of the sports itself. SnoShred does just that; emulate the wonderful cool sports of sliding on snow and performing tricks and what not. There are not many snowboarding games around for the iPhone platform but to be honest, those that are around such as Crazy Snowboard and Shaun White Snowboarding: Origins are well polished and executed. SnoShred however, needs quite a bit of work to be done to make it more competitive with the other two snowboarding games.
I have no complaints about the graphics or the sound though the latter is rather mediocre but acceptable. Graphics are in 3D and it actually looks pretty good for an iPhone game. However, looks do not provide much fun as seen in how the gameplay is filled with bugs and horrible controls. The controls, need time to get used to, however, should you not be able to bear the controls and thus not having fun at all at first few tries, you might actually want to put down the game. Moving is done by tilting the iDevice left and right. Jumping/Boosting is done by pressing buttons. It works but it is simply too clunky for my liking. It doesn't work smooth enough to complement the fast action sports that it is suppose to play like. There are 3 different game modes to choose from, all of which don't differ much except the objectives such as performing tricks for score or going through gates. Two characters to choose from with not much differences except the skin of your character. There are also different boards to choose from, none of which affects the gameplay.
Bugs present are things such as smashing the side of the gate pole and getting it checked without actually going through them. Flying over but in between two gate poles doesn't result in it being checked. Landing perpendicular to motion sometimes result in your character falling but sometimes it doesn't. And there might be more but the controls really make the bugs feel worse than it actually is. For those hardcore snowboarding fans who think that they can bear through the unintended steep learning curve, you might actually enjoy the game for a bit. Otherwise, there are other cheaper higher quality alternatives to choose from.
Rating: 5.5/10
Green Jump ($0.99)
Green Jump, similar to that of Doodle/Froggie/Whatever Jump with nothing except the jumping and power-up gameplay mechanics. It is a much simpler, stripped down version of Doodle Jump. But Green Jump does comes with a special purpose, the purpose and goal to promote awareness of the environment. It is said that a sum of money within the $0.99 you pay for goes as donation to Greenpeace, kind of neat for people wanting to do some charity and such. Alright enough of the noble cause behind the game, now on to the gameplay itself.
Pick up and play, it is that simple. Simply tilt your iDevice left and right to move your character. Keep landing on clouds to continue jumping upwards to escape the approaching rising smoke. There are special powerups for you to collect throughout the playthrough and be sure to look out for them as they not only rack up the points but also help you escape the smoke at a much faster rate. Take for example the Superman man like mantle that gives you temporary ability to fly, the umbrella that once held magically summons the rain to fight against the smoke. There are also letters to collect that spells out "greenpeace", which gives you additional lives when you are suffocating in the smoke.
The game is just like that without much variation unlike Doodle Jump. But it is perhaps this simplicity that makes the game fun. This is definitely a game for someone who simply wants to have some fun and at the same time do some charitable work. Graphics are light hearted and colourful, perhaps to show that there is a brighter future ahead of us earthlings should we take care of our earth itself.
Rating: 6.5/10