If you've been following my twitter posts, or know my personally in life, you ought to realise how much I wanted a new computer (a desktop, not a laptop). I've longed for one since the day my laptop decided to tell me that "hey I'm old, so please stop trying to open more than 2 programmes at one shot!" (of course that is exaggerating). I've no earning power, therefore I've no spending power. The only money source that I had was my parents. Of course I tried my best bargaining so that it benefits both them and myself. I promised to try my best at my first term examinations and if I managed to do so, they would give me a budget of let say $2000 (A lot I know. My parents are that loving to their kids. Always feel guilty when I lose my cool and start shouting at them.)
Of course the results are that I did rather averagely and they decided to allow me buy/build a computer (quite obvious since this post is written). Before buying, I did my part to make sure that all of the money was well spent. I did my homework, researching up on the different parts and prices, finding the best and most effective (lasting as well) way of putting up the computer. Graphics card, monitor, processor etc you name it and I've research up on them. Asked opinions from fellow friends both in the net and in real life as well. I've finally decided roughly on my different parts I wanted to get. Then came the point where I had to source for the cheapest and most reliable alternative to get those individual parts. I'm glad that Hardwarezone and VR-Zone both provides price guides to help consumers buy at the cheapest possible price available.
In the meanwhile another fellow forum member messaged me offering services to buy as well as fix up the computer at just a small tiny fee. Of course such services (private messages sent) are most probably spam messages and fake (or scams even). My instant reaction to this sort of messages is to close them and delete them immediately. However, since I was totally new to all these computer building stuff, I decided to see if he was sincere and providing me his services mentioned. I asked him questions about the different parts, asking him and making him clear as many doubts I had then. He was always friendly and patient throughout our conversations. My conclusion and impression on him: a kind and helpful lad. I decided to engage his services after 2 or so months of communication. His price quoted for those parts I wanted was surprisingly cheaper than most of the stores out there (do you smell a rat? I do but he ensured that all parts are sealed brand new in box).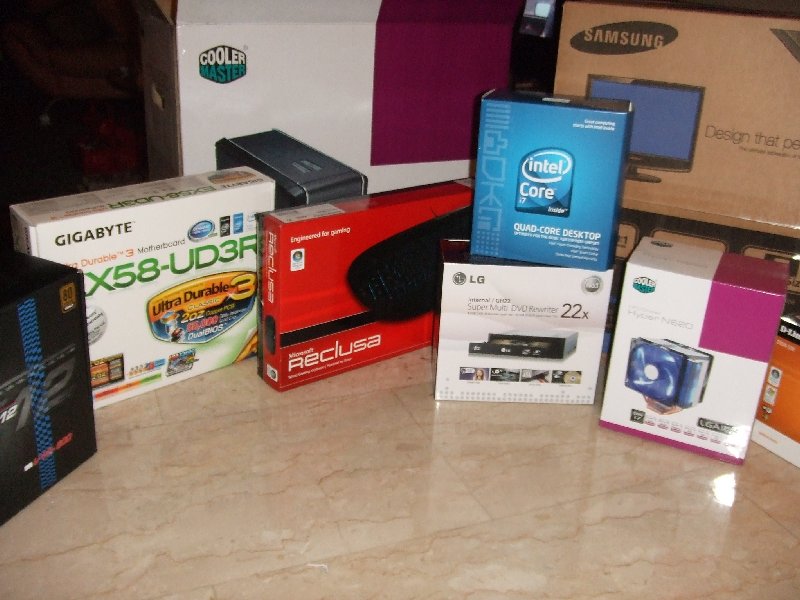 So then came the day where we decided to finalise and go down to Sim Lim Square (the biggest IT Mall in Singapore) together to get the different parts. He helped to get the different parts and my dad provided the transport for him to my house. He fixed the computer up for me (I actually wanted to do it myself but since he offered to help, why not let a professional do it?) as I stood and one side observing how the different wires were put in and so on. Everything went smoothly, parts were all working great, LCD Monitor had no dead pixels, back light bleeding wasn't extreme (very mild actually). The computer was then shifted into my room and placed at a temporary position.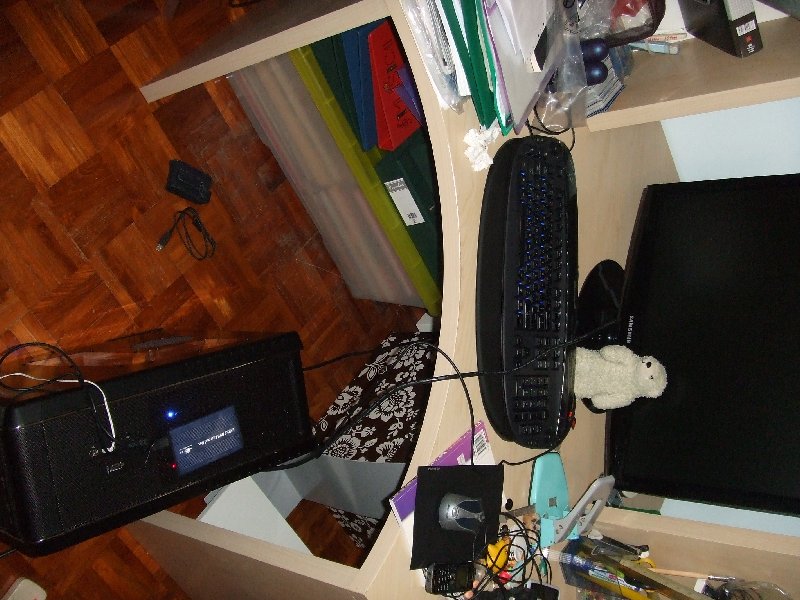 As said earlier, he was kind and helpful. He decided to stay on for awhile to check to see if everything was in order. He showed me the different specifications and how to check them (I actually knew how to after doing my homework), ensuring me that the high temperatures were fine (this I knew as well, read of the different reviews in the net). He continued to clarify any of my further doubts and questions. I decided then to ask him about why he is actually doing this, what is his purpose? He told me that this was to pave the pathway for his future business, which is also related to building custom computers and whatnots (Building a client database as well as hoping for his customers to spread his services by word of mouth). I guess that is the right way to go, and indeed I believed his services were fantastic (computer yet to have any problems, we'll see after a month or so). If any of you were in need for help in fixing up a computer, feel free to message me and I'll direct you to him (there you go, spreading your helpful and great services through the word of words).
And there you have it, the story of my new computer.
Specifications:
Intel i7 920 @ 2.67 GHz
Gigabyte EX58-UD3R
Kingston 1333MHz DDR3 2gb x 3
MSI 7800 GT DDR3 256mb (Brother's old graphics card. No new game = No new card)
WD 640GB Black
AeroCool V12 700W (No idea why I bought to much…)
Cooler Master 690
24″ Samsung 2433BW
OS: Windows 7 (Changed from original windows xp pro to this yesterday. Felt like trying since not much important stuff in my computer yet)
Want to get:
Speakers. I hate using the earphones every time I game or watch videos etc.
Total Cost: $1919 SGD